MARINE
FishHunter™ Drive from Suzuki And Furuno wins
2022 TOP PRODUCT AWARD from Boating Industry Magazine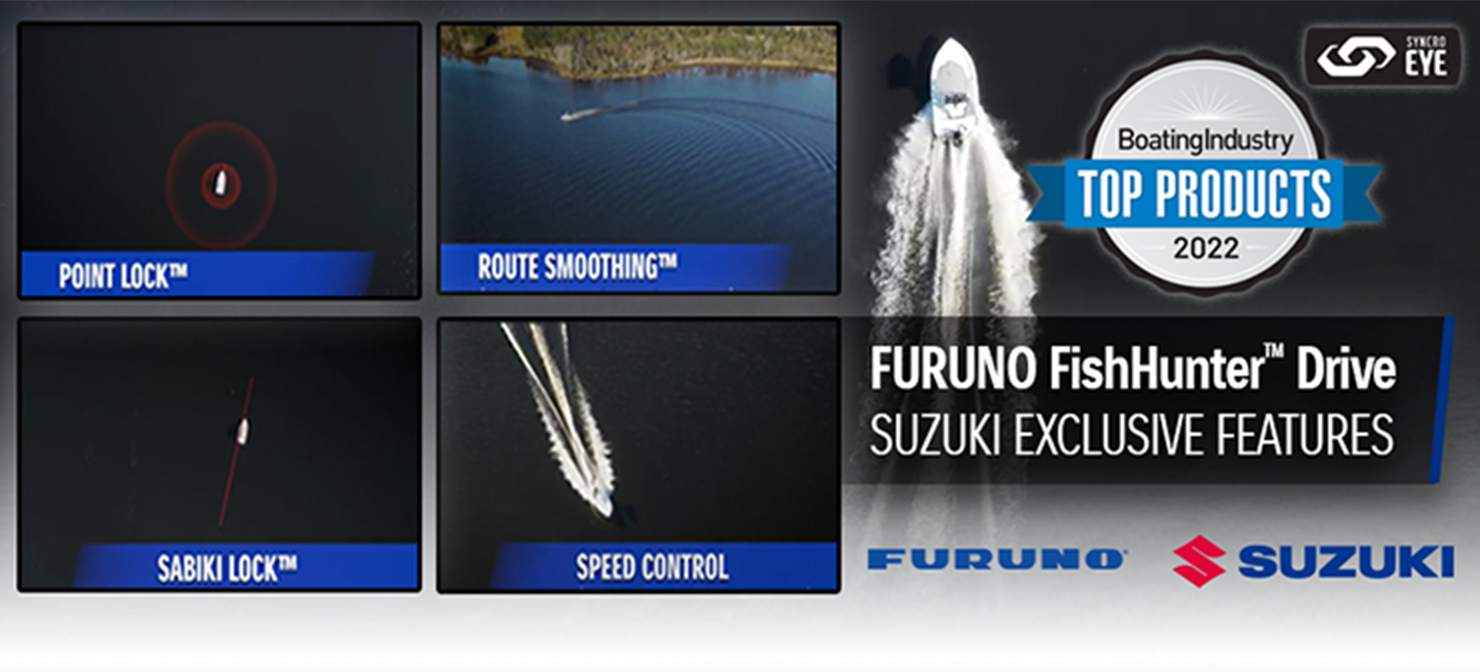 FishHunter™ Drive from Suzuki And Furuno wins 2022 TOP PRODUCT AWARD From Boating Industry Magazine.
This new system was chosen for its unique ability to bring a new level of boat control, safe vessel operation and fishing success to a whole new class of boaters — especially those with single outboard engines as small as 115 horsepower.
FishHunter™ Drive delivers advanced features for anglers running Furuno's popular NavPilot 300 autopilot and any of Suzuki's new Suzuki Precision Control (SPC) 4-stroke outboard motors, from the DF115BG/DF140BG all the way up to Suzuki's flagship DF350A V6. Existing owners of Furuno NavPilot 300 autopilots and compatible Suzuki outboards can activate these new features simply by installing a software update.
Easy plug-and-play integration between Suzuki's New SPC system and Furuno's NavPilot 300 unlocks powerful new features, including Speed Control, Route Smoothing™, Point Lock™ and SABIKI™ Lock Modes. It works with single outboards, as well as with twins, triples or even quad engine installations. Speed Control works much like "cruise control" in automobiles, allowing the NavPilot 300 to control engine RPM/throttle settings so boaters can cruise at a specified RPM range. Offshore anglers can select the precise speed that is ideal for the lures or baits being trolled, maximizing time on the water.
The Route Smoothing™ function comes into play when following a route on a boat's chart plotter. As the boat approaches turns in the route, the speed is automatically adjusted to execute the turn smoothly and comfortably, without overshooting the waypoint. When the final waypoint in the route is reached — say a favorite fishing hotspot — the boat will automatically slow down and enable Point Lock™ to stop and hold the vessel on station.
Point Lock™ is a position holding system that controls the engine angle and shift to keep the boat over a specified point regardless of the wind and current. This is a powerful way for anglers to hold position over a wreck, ledge or school of gamefish. It is also very useful when boaters are waiting for vessel traffic to clear or holding position while waiting for a bridge to open.
The SABIKI™ Lock mode provides automatic throttle control along with steering adjustments to maintain a set heading. This hands-free "drift control" function is ideal for anglers when jigging, bottom fishing or using Sabiki rigs to catch live bait. It is also valuable when kite fishing offshore, or anytime fishermen want to manage multiple lines without tangles.
We hope this convenient and comfortable feature will enhance the marine life of our customers who enjoy fishing!!
For more information of 2022 TOP PRODUCT AWARD from Boating Industry Magazine.
: 2022 TOP PRODUCT AWARD from Boating Industry Magazine