Thai Suzuki Achieved OBM Production of 1 Million Units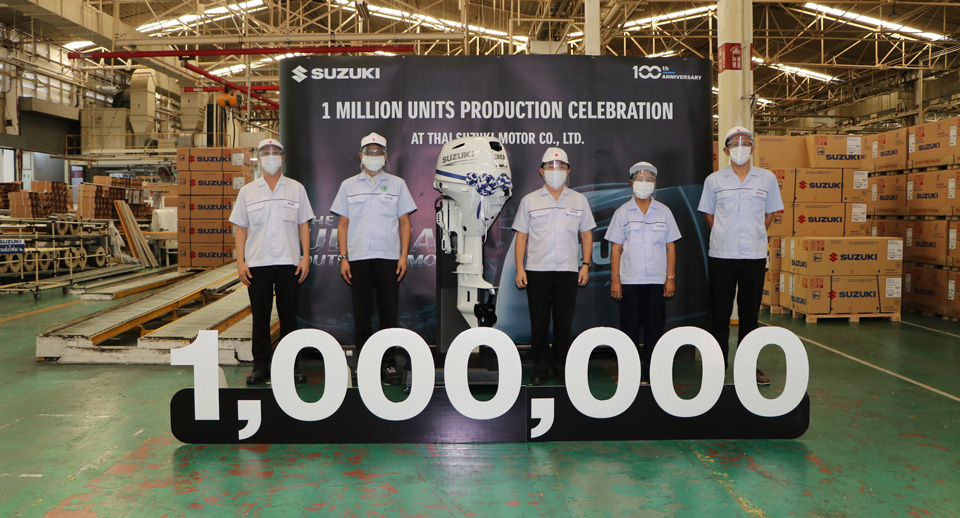 Thai Suzuki Motor Co., Ltd. (Thai Suzuki), one of the Suzuki plants in Thailand has achieved outboard motor production of 1 million units on November 6th, 2020. Thai Suzuki achieved this milestone in 21 years and 1 month since starting production in 1999.
"It is a real honor that Thai Suzuki achieved this memorable occasion in the 100th-anniversary year of Suzuki Motor Corporation and it was realized thanks to the cooperation and efforts of the people who relate to Suzuki Marine and all the Suzuki fans in the world," said Mr. Hasui, president of Thai Suzuki.
Thai Suzuki was founded in 1968 as Suzuki's first motorcycle plant outside of Japan and started to produce outboard motors in 1999. Since then, Thai Suzuki has taken on a crucial role as a production base for small displacement outboard motors. The company currently produces 17 models of outboard motors, which are 4-stroke models ranging from 2 to 30 horsepower and 2-stroke models ranging from 9.9 to 40 horsepower.
Suzuki will make effective production of outboard motors by realizing the best combination of both plants in Japan and Thailand to meet wide range of needs from every part of the world.
Get information for your country or region.